The way insurance companies set their policy prices is surrounded by a halo of mystery. In a recent study, ConsumerReports.org analyzed more than two billion quoted prices to understand the factors that increase rates.
You know Flo. She is the charming apron-wearing promoter that says you that you can save more than $500 if you switch to Progressive car insurance. Or that you can get other discounts if you bundle your insurance policies or that you can name your price, one that fits your budget.

From these ads, you can reach the reasonable conclusion that you are being offered great savings. But Consumer Reports compared the 5 national insurers policies for adult drivers in states where they lead the market, and they discovered that Progressive was the second most expensive company, on average, with a $597 more expensive premium.

Progressive is not the only one that claims to have discounts that end up not being as attractive as they sound. The relaxed reptile in Geico's ads is so well known that people can easily recite their slogan: "15 minutes could save you 15% or more"

The ads create the impression that there is a competition between prices, when in fact it is not.

Undoubtedly, the predominance of skilled car insurance companies disguises broader and more problematic industry practices that result in poor transparency and lack of justice in insurance pricing policies. As a result, consumers have a hard time distinguishing between a good offer and a bad one. And in the absence of reliable and independent information, consumers only have trust in what the advertisements say.

Consumer Reports believes that knowing the market rate of any product or service is a fundamental right of consumers. For this reason, Consumer Reports conducted an exhaustive two-year project,, in which Consumer Reports analyzed more than 2 billion auto insurance price quotes, from more than 700 companies, in the 33,419 general postal codes of the USA.
Insurance companies aren't raising rates for the sake of just charging you more–there are rules against that.   However, what was discovered is that behind the price quote is a pricing process that judges consumers less by their driving habits, and increasingly by socioeconomic factors, and mostly by the insurance companies need to increase profit margins for their stockholders.
Some of these factors include your credit history if you use credit cards from large stores or banks, and even your TV service provider. These factors are then used in confidential, and often confusing, scoring algorithms. And thanks to the massive data available, companies have much more information to poke around.
The insurance companies hide critical information from customers. "Price transparency is one of the most powerful savings tools that consumers can have when it comes to car insurance," according to Norma Garcia, senior lawyer and financial services program manager for Consumers Union.  Consumers Union is the division of Consumer Reports, which has been fighting for the protection of auto insurance since the 1980s.

The industry is regulated at the state level and for this reason, the pricing is scattered throughout the map. "This implies bringing the fight to insurance regulators and state legislators," says García. Some states attempted to maintain a fair market by requiring insurers to submit their pricing formulas to regulators, who would be responsible for ensuring that prices were not excessive or discriminatory.

But in the past 15 years, insurers made pricing considerably more complicated and confusing. As a result, "there is a complete lack of transparency," says Birny Birnbaum, executive director of the Texas Center for Economic Justice. These new scoring models, although hidden from the public, are available to regulators on condition that their confidentiality is maintained. But due to its high degree of complexity, "regulators have no hope of being able to supervise them thoroughly," says Birnbaum.

It is time for the auto insurance industry to make us a better offer. The research sheds light on some of the worst practices by demonstrating the real cost to consumers in dollars and cents. They also highlight companies that offer fair offers and help you stay away from insurers whose numbers simply don't add up.
The high cost of bad credit
The rates shown correspond to the average premium for single adult drivers with an impeccable driving record and a bad, good or excellent credit score. ConsumerReports.org compared them to the average premium of a driver with excellent credit and a conviction for DWI or drunk driving.

This is how the numbers look in Texas, for example:
-$ 1,409 Excellent Credit
-$ 1,721 Good Credit
-$ 3,826 Bad Credit
-$ 2,274 With a DWI
For an analysis of the 50 states and Washington, D.C., go to Consumer Reports.org/FixCarInsurance

Which insurers charge more or less? *
Average annual premium
-Allstate $ 1,570
-Progressive $ 1,414
-Geico $ 1,177
-State Farm $ 1,147
-USAA $ 817
* Rates for new customers corresponding to single male and female drivers of 25, 35, 65 and 75 years with excellent credit and an impeccable driving record in AK, AL, AR, AZ, CO, CT, DE, FL, GA, HI, KY, LA, ME, NH, NM, NV, NY, SC, TN, TX, UT, VA, WA, the states where the 5 companies lead the market (Data from 2018-2019).
The Profit Margin Experiment
The main conclusion after the study was that the driving force in the increase in premiums is a direct result of an auto insurance industry that's been finding it increasingly difficult to sustain healthy profit margins.
Of the top five insurers, only GEICO and Progressive have managed to maintain profits, and the amounts have trended downward over the last six years. It's even worse for some other insurers like State Farm. The single largest auto insurer in the country has seen its revenue from premiums rise by 26% since 2012, but also suffer a 35% increase in the cost of covering the cost of claims in the same period (see table below).
Source: ConsumerReports.org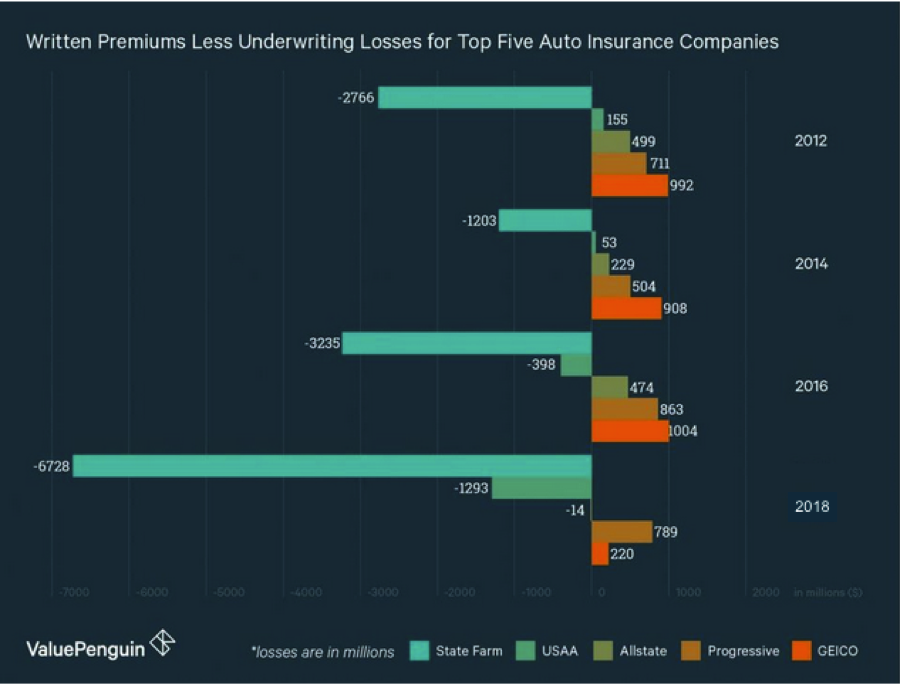 Having an issue with your auto insurance company after an accident?
Contact our experienced motor vehicle attorneys at 832-481-3427. Get in touch with us immediately so we can evaluate your case for free. We are available 24 hours a day, 7 days a week. You can also fill out a form by clicking here.
PMR Law is considered one of the Best Law Firms of America, by Rue Ratings. Several of our attorneys have been given the honor of being named Super Lawyers by Thomson Reuters. The American Institute of Personal Injury Attorneys has named our attorneys 10 Best in Client Satisfaction. Speaking of personal injury, Attorney and Practice Magazine awarded our attorneys with Top 10 Personal Injury Attorney distinctions. The National Trial Lawyers, as well as the American Academy of Attorneys, have named two of our attorneys as Top 40 Under 40. Our attorneys have been recognized as Best Attorneys of America, by Rue Ratings. PMR Law is a proud member of the Multi-Million Dollar Advocate Forum.